What is Adoremus 2018?
In 2016 at the International Eucharistic Congress in the Philippines, the Holy Father called upon local Churches around the world to hold their own National Eucharistic Congresses at sometime during the four year interval between each International Congress. 
Adoremus 2018 is the response of the Catholic Bishops' Conference of England and Wales to that call.  It was anticipated that over 10,000 Catholics will be joining our bishops in Liverpool in adoration, learning and celebration of the Eucharist at the heart of the Church.
There are three distinct phases of focus for the congress:
The first, preparatory phase has taken place in the parishes and dioceses where we were asked to focus upon Adoration as part of our lived Christian experience.  During this time, we have been featuring on our website a podcast series to help us reflect upon the themes of the congress.  These podcasts are still available - click here
The second phase was the actual celebration of the Congress and the Pilgrimage.  It has been called a 'Pilgrimage' as well as a Congress because the weekend of 7-9 September was a continuation of the work that has already been done in the parishes during the preparatory year.
The third phase was the 'Sending Out' of delegates from the Congress who were commissioned to take with them all of the good experiences that they have had in Liverpool, to go out and take the Good News of Jesus Christ into the heart of our country.
From the Salisbury Catholic Churches, Francis Rolleston, John Joel, Deacon John and Lee Proctor attended the congress .
John Joel  was one of four who carried in the statue of our Lady of Walsingham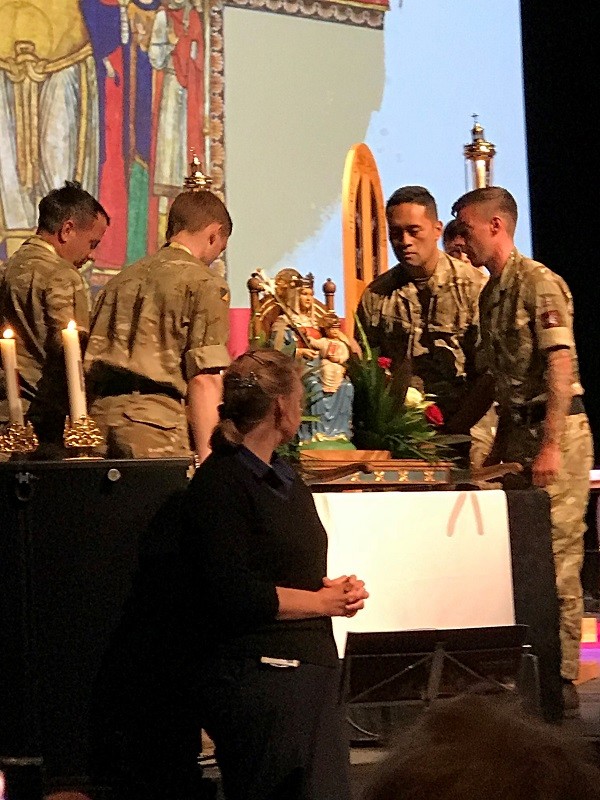 The talks are still available via SHALOM WORLD:
Go to: https://www.shalomworldtv.org/adoremus