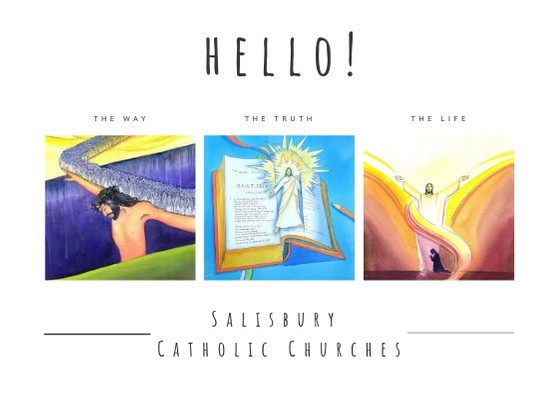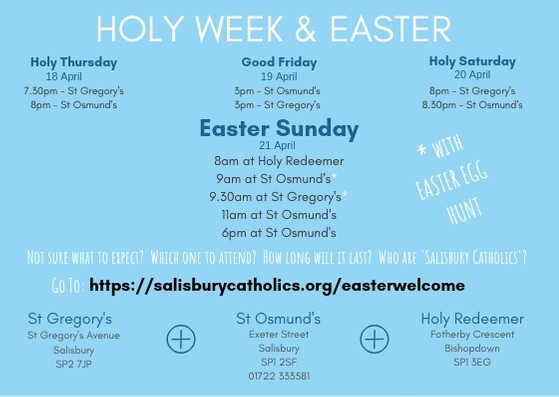 Welcome!
If you are visiting this page because you have received one of our Easter invitation postcards (shown above) through your letterbox, thank you for your interest and welcome to our website.
Who are we?
Salisbury Catholic Churches are part of the Roman Catholic Diocese of Clifton.  We have three churches in and around Salisbury.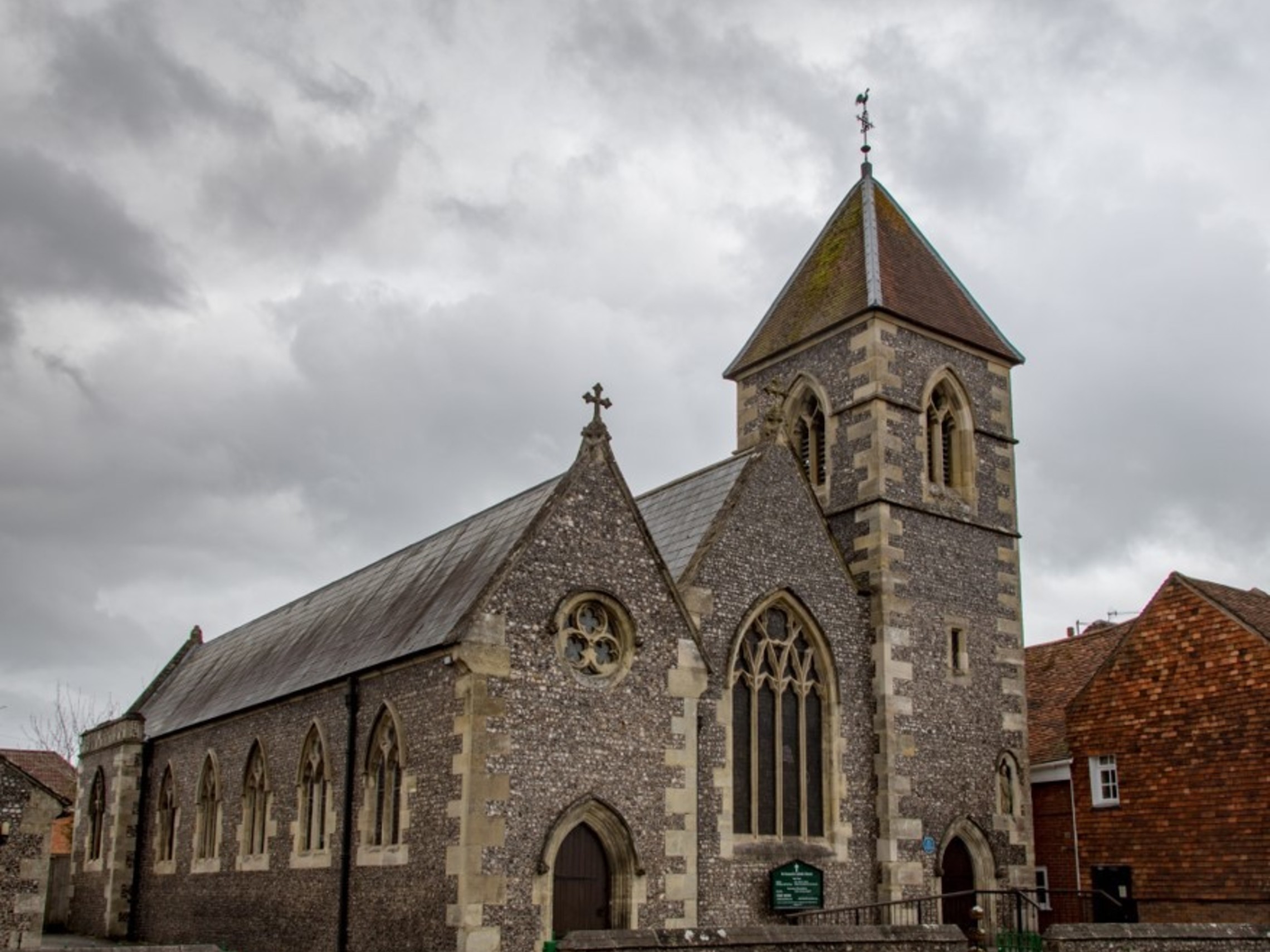 St Osmund's
95 Exeter Street SP1 2SF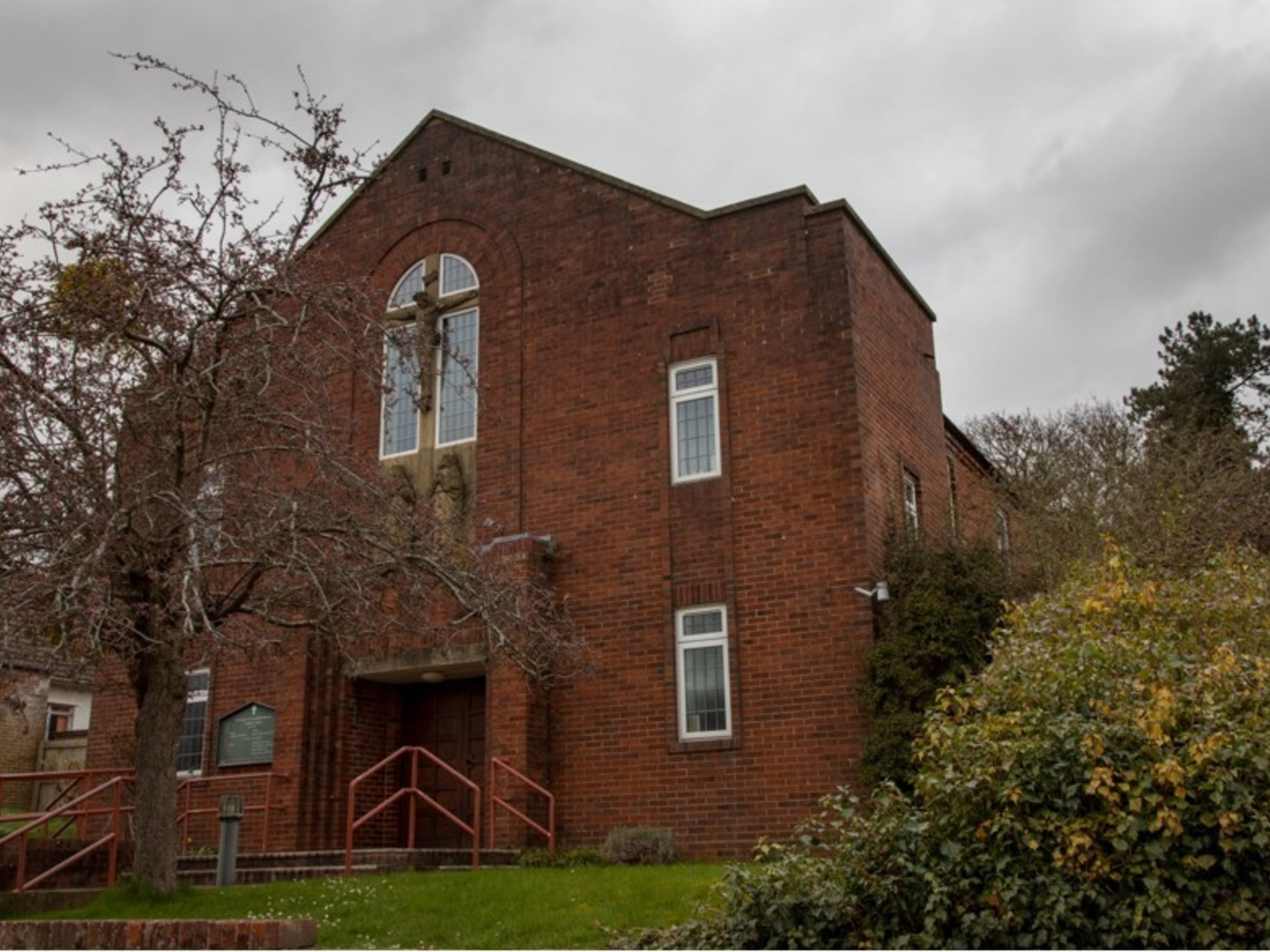 St Gregory's
St Gregory's Avenue SP2 7JP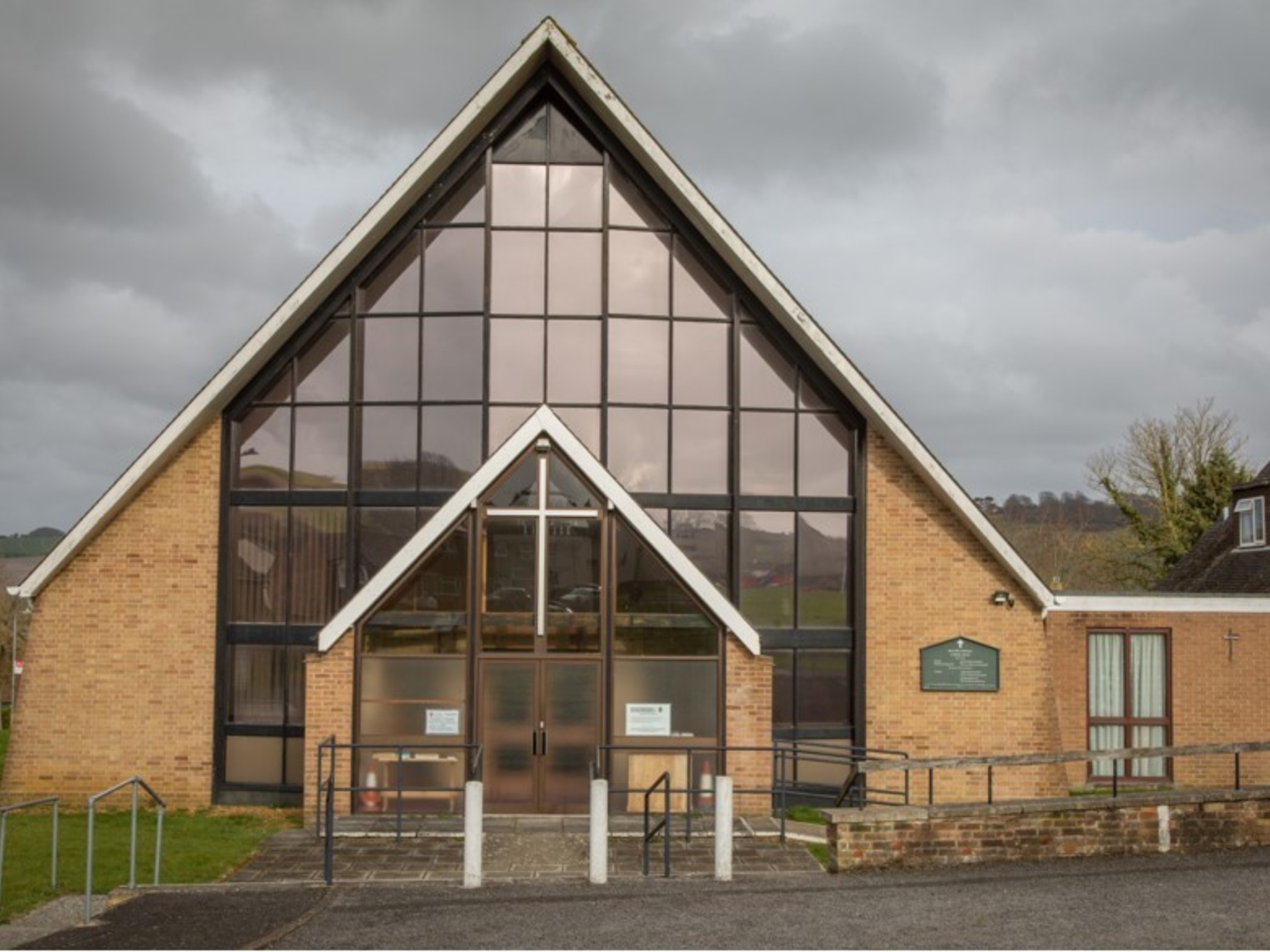 Holy Redeemer
Fotherby Crescent SP1 3EG
What are we inviting you to?
We are inviting you to come and join us as we remember and celebrate Jesus,  our Risen Lord.  Easter is the highpoint of our Church's year and we have a number of special services in the lead up to Easter when we gather together to remember all that God has done for us throughout history.  These services lead to our joyful celebrations on Easter Sunday. 
Whoever you are, whatever your background or experiences you are welcome to join us at any of our services.
Not sure what to expect?  What we're doing? Here's a simple guide:
EASTER SUNDAY
21 April
We celebrate Easter Sunday with the traditional Catholic celebration of Mass.  There is at least one Easter Sunday Mass in each of our Churches.   On Easter Sunday we are celebrating with great joy the resurrection of Jesus from the dead, his victory over sin and death - the very salvation of the human race. Below is a short description of what to expect:
Parking at St Osmund's is available in St Osmund's School playground. Link for directions to the school
8am at Holy Redeemer
6pm at St Osmund's
You may decide which one to attend based on your schedule for the day - maybe you've already arranged to get together with family, so an early morning or evening service would be convenient for you. 
These services will be simple but joyful celebrations.  You can expect there to be a warm welcome, prayers, readings from scripture, preaching, and Holy Communion.  There will be hymn-singing at both Masses but there will not be as much music as you will experience at other Masses.
Mass will last about an hour.
9am at St Osmund's
9.30am at St Gregory's
with Easter Egg Hunt
Whilst we pride ourselves that all of our Masses are 'family-friendly', these two are the celebrations where there are lots of young families and the music is upbeat and joyful and parents can feel relaxed knowing that we are very used to young children. 
All the essential elements of Mass will take place - prayers, reading from scripture, preaching and Holy Communion. Children may be invited to join in the music-making and we gather afterwards for tea/coffee in the parish hall whilst the children hunt for eggs!
Mass will last about an hour.
11am at St Osmund's

with Easter Eggs
This Mass is our most 'traditional' Mass.  If you haven't been to Mass for many years, this Mass will feel most familiar to you. 
You will receive a very warm welcome, there will be prayers, readings from scripture, preaching and Holy Communion.  There will be incense and a choir will lead traditional music.
On Easter Sunday there will also be a sprinkling with water and everyone will be invited to light an individual candle.
Mass will last about an hour.
HOLY WEEK SERVICES
The three days before Easter Sunday are known as the Triduum ('Three Days'). It is a time when we recollect and celebrate the life, death and Resurrection of
Jesus Christ.
Details of the three major services are shown in the boxes below and you are welcome to any or all of these.  Beneath the details is a short, informative video which explains the significance of these services.
HOLY THURSDAY
18 April
Mass of the Lord's Supper:
7.30pm at St Gregory's
and 8pm at St Osmund's
On this day we recall the last meal Jesus shared with his disciples - the Last Supper.  At this supper he gave them the great commandment to love one another and demonstrated his love by washing their feet.  This was also the occasion when Jesus first took bread and wine, blessed it and told his disciples 'This is my body which is given up for you.'  At our service this evening we re-enact the washing of the feet and, as at every Mass, we celebrate the Eucharist in obedience to Jesus' command to 'do this in memory of me'.This service is peaceful and reverent and is immediately followed by an optional time of 'watching'.  This is when people stay behind after the service in stillness and silent prayer. 
The service lasts about an hour. 
GOOD FRIDAY
19 April
3pm Solemn Liturgy at St Osmund's
and St Gregory's
On this day around the world Catholics gather at 3pm to recall how Jesus died.  The service begins in silence, an account of how Jesus died is proclaimed and prayers for the whole world are offered. Then we show a mark of respect as individuals for the most prominent of Christian symbols, the Cross.  This service is not a Mass but Catholics do receive Holy Communion and others are welcome to come forward for a blessing. There is music and hymn singing of a solemn nature.  St Osmund's Church gets very full on Good Friday so do come early enough to get a seat. 
The service usually lasts over an hour. 
Parking is available in St Osmund's School playground. Link for directions to the school
HOLY SATURDAY
20 April
Easter Vigil: 8pm at St Gregory's
and 8.30pm at St Osmunds 
On the evening before Easter Sunday we gather for our Easter Vigil. This is the most important service in the church's year.  It starts after dark outside the church with the blessing of a fire and the lighting of the Easter Candle, and everyone shares this light with one another as we move into the Church. We then listen to several readings from the Bible and sing Psalms which recount the wonderful deeds God has done for us, culminating in the resurrection of Jesus Christ.  All those who are baptised are given the opportunity to renew their faith and holy water is used as a reminder of the promises of baptism.  If there are new members to be received into our Church there may be baptism/s, receptions into the Church and Confirmation.
This service lasts for around two hours and ends late on Saturday evening.