Thomas Lawes - Ordination to the Priesthood
As many of you know, Thomas was raised here in Salisbury, lived in Holy Redeemer parish and attended both St Osmund's and St Joseph's schools. For part of Thomas's childhood, his family lived in Fotherby House (the former presbytery at Holy Redeemer) and we have been praying for Thomas since he entered seminary at St John's, Wonersh in Sept 2014.  It is with great pride and joy that we look forward to Thomas's Ordination to the Priesthood on 26 September at 11am in Clifton Cathedral.  It is sad that, due to the current COVID restrictions, we cannot organise a coach and his Ordination has to be an invitation-only occasion.  However, the event will be Livestreamed from Clifton Cathedral and will be available to watch on our website.  We will be presenting Thomas with a gift from our parishes to mark his Ordination and, if you would like to contribute to this gift, there are envelopes available in all of our churches this weekend.  Please put your gift into the envelope and place in the normal offertory basket by the entrance/exit in any of our churches. Please make cheques payable to 'St Osmund's Parish' and write 'Thomas Lawes' on the reverse side. If you would like to add your gift via online banking, please call the office for bank details: 01722 562703 or email outreach@salisburycatholics.org  
Please continue to pray for Thomas as he approaches his Ordination.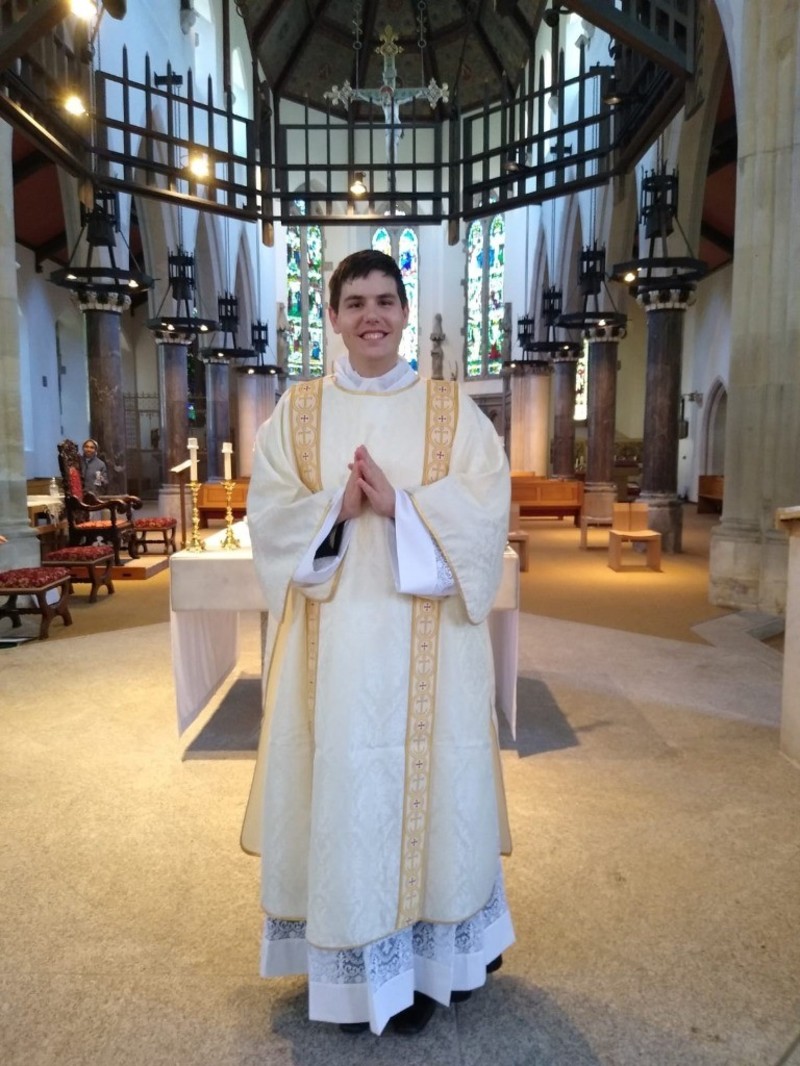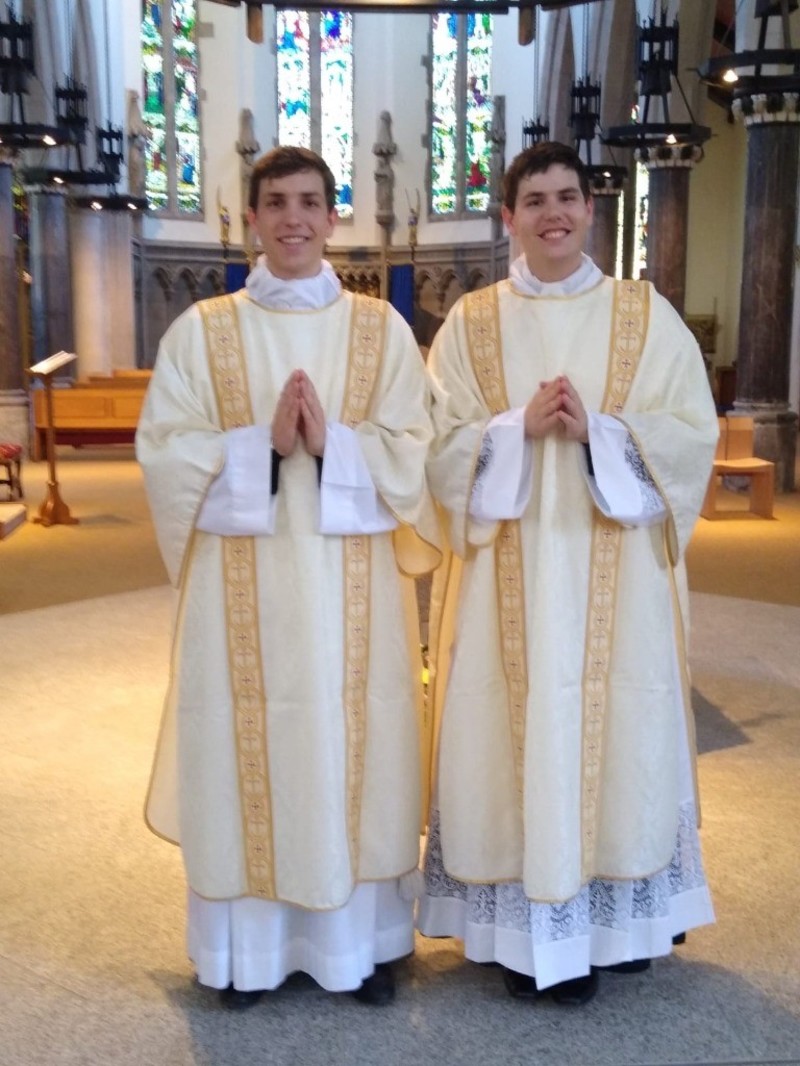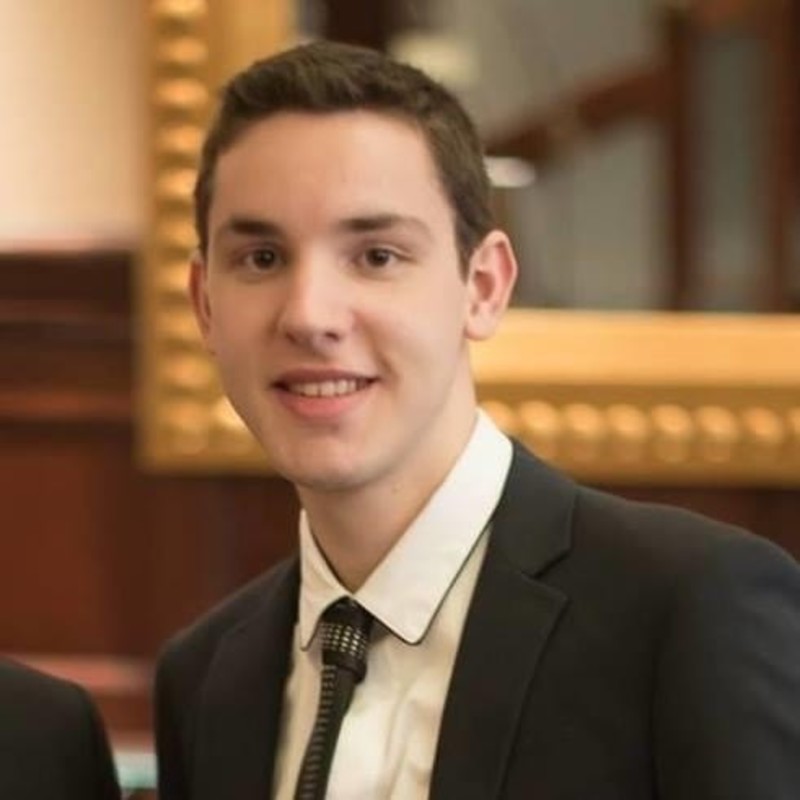 Dominic Lawes
Thomas - in his own words
My vocation grew up from many influences in my life. I think perhaps the most significant influences were my family, local Catholic community and a long line of very impressive and committed priests.
Thanks to my parents' love, family life growing up was safe and strong, and the faith was at the heart of it. It was not simply going to Mass on Sundays, the expectation of living according to the Lord's teaching permeated through the week and brought much happiness.
The Catholic communities that I have lived in, for the most part Salisbury, gave me the experience of the Church that was more than simply a gathering of people who happened to share a religious opinion, but a community which shared the Christian life and supported each other in prayer and charity, good times and bad. This, I see now, helped the Faith to be a normal and natural part of my life even away from the family home.
 I think every parish priest and assistant priest has inspired me to pursue the Christian life, I cannot think of one priest growing up who was a discouragement to my faith, mistakes and all. Their witness gave me a love of the priesthood. In each of these men, without exception, I have seen Christ.
These influences created fertile ground for the Lord to work, it is through this that the Lord spoke to the deepest part of my soul and through all this that I was able to recognise His voice.
Albert - in his own words
Jesus said, "You did not choose me, but I chose you." (Jn.15:16)  This is my experience of vocation.  I grew up in Salisbury, I went to Mass every weekend (for some years I served at the altar), I went to both St Osmund's Primary School and St Joseph's Secondary School, and I always believed in God, and I was comfortable being Catholic.  Despite all this, I never felt the inclination to be a priest.  However, when I was 18 years old, I had a profound conversion experience in Walsingham where I encountered Jesus personally and led me to want to know Him more and more.  Most importantly, I discovered Jesus in the Blessed Sacrament, in the Mass.  This Jesus who knows everything about me (including how sinful I am) and yet He loves me, not because I deserve it, but simply and unconditionally.  I began to place my trust in Him, so I asked, "What do you want me to do with my life?"  And He replied, "I want you to be a priest".
Initially it filled me with fear.  I didn't want to be a priest, I wanted to get married, have a family, I didn't want to bear the responsibility, I didn't want to live alone.  For years I put it off, but all the while, the more I read about it, the more I prayed about it, the desire grew in me.  I was accepted to seminary while still at university in Cornwall.  Then I was sent to Rome to study for the priesthood.  It has been a long road, with many highs and lows.  I have learned many things, but the most important thing that I have learned is that God loves me, and He will never abandon me.  The priesthood is how He wants to show me how much He loves me.  Jesus has chosen me, I am learning to choose Him.
Thomas Lawes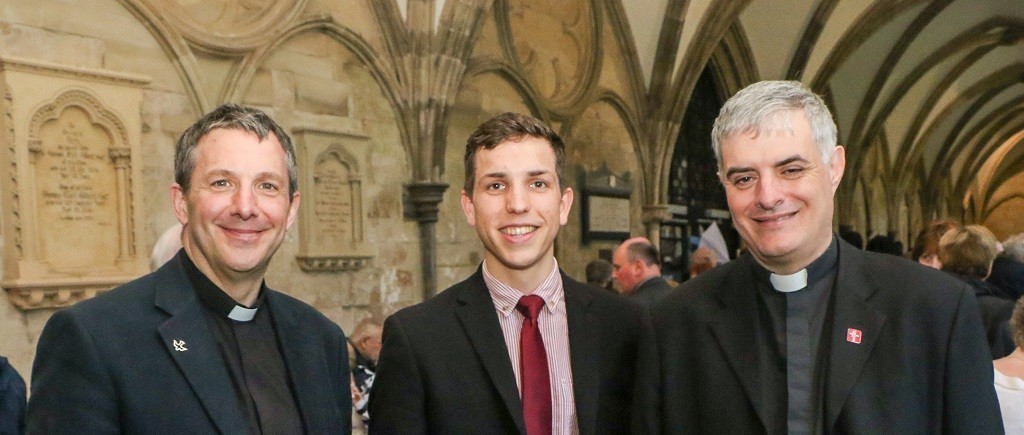 Albert Lawes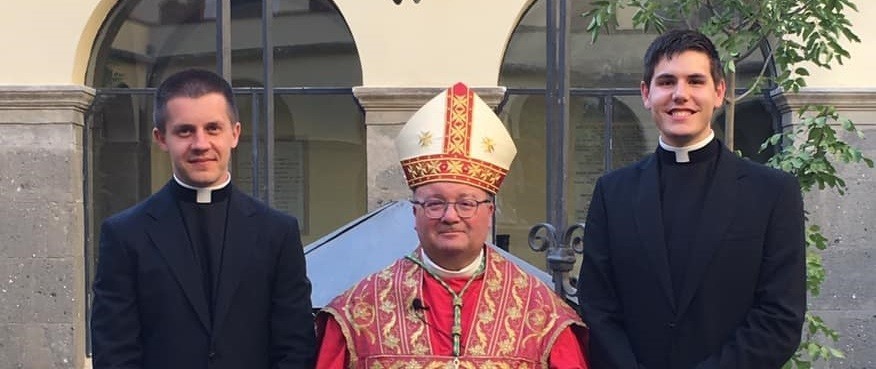 Thomas is studying at St John's Seminary, Wonersh, Surrey and Albert is studying at The Venerable English College, Rome. 
Thomas – Candidate for Holy Orders
On Thursday 27th June, Thomas Lawes, one of our Clifton Diocese seminarians, completed the end of his fifth year of seminary formation with a special celebration. Thomas was admitted as a Candidate for Holy Orders. This means, God-willing, that he will be ordained as a deacon later this year and priest next year.
Thomas was admitted to Candidacy by Archbishop Kevin McDonald, formerly of Southwark Diocese. The special Mass of the Sacred Heart was celebrated in St John's chapel in the seminary at Wonersh. Five other men in Thomas' year were also admitted as candidates.
Fr Matt Anscombe, Vocations Director for Clifton Diocese was at the Mass, along with Fr Gary Brassington, who hosted Thomas last year on a 9 month placement at Holy Family, Swindon. Fr Matt said:
"It is great to see Thomas one further step towards Ordination. The prayers of so many people in the diocese are really important and we are starting to see fruit from this faithfulness."
Albert - Candidate for Holy Orders
On Wednesday 3 July, Albert Lawes who is a seminarian from Salisbury who is currently studying at The Venerable English College, Rome, reached another important milestone in his journey towards priesthood.  Albert was admitted as a Candidate for Holy Orders which means that, God-willing, he will be ordained as a deacon later this year and priest next year.
Albert was admitted to Candidacy by Archbishop Charles Scicluna (Malta) along with seminarian Andrew Coy of the Northampton Diocese.  The special Mass was held at Villa Palazzola, the former Franciscan Monastery owned by The English College which overlooks Lake Albano in the Alban Hills, 18 miles from the centre of Rome.