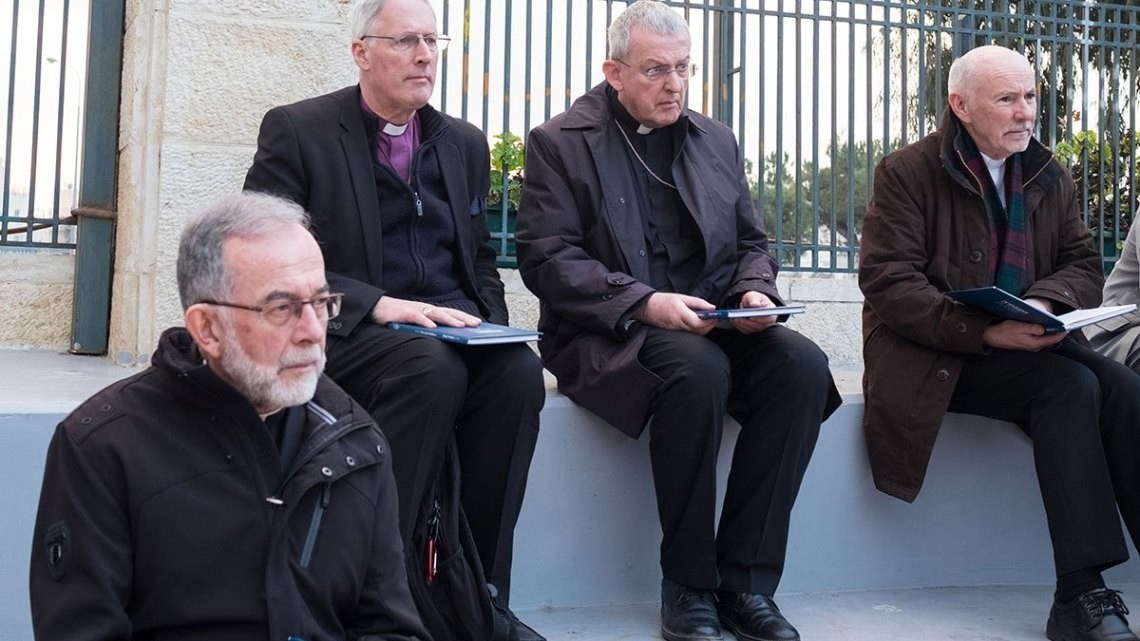 CHRISTIANS around the world are facing increasing levels of persecution, shocking new research has revealed, with those in Asia most likely to risk imprisonment, torture and even death for practicing the faith.
North Korea, Afghanistan and Pakistan remain in the top five places where it is hardest to be a Christian, according to new research by Christian charity OpenDoors. But the rise in attacks by Hindu extremists in India and tough new laws in China have seen believers in world's two most populous countries face "extreme" and "very high" levels of persecution respectively. The study concluded that some 245 million Christians experience high levels of persecution in 73 countries around the world - up from 215 million in 58 countries last year.
Traditional Prayers for Persecuted Christians
Graciously hear the prayers of Thy Church, we beseech Thee, O Lord: that her enemies and all heresies be brought to nought, and that she may serve Thee in perfect security and freedom. Through Christ our Lord. Amen.
Prayer for Persecuted Christians
by Fr. Rodolfo D. Vasquez
O God, Father of Justice and Peace, we commend to your merciful love, the peril of our Christian brothers and sisters who are tormented by wicked and evil men, whose ruthlessness has claimed so many innocent lives.   Their injustice, blasphemously attributed to your name, has corrupted true religion and violated peace.   Let your Divine Justice be done to restore peace in our troubled times.   Convert the hearts of those who are obsessed with hate and have chosen evil filling them instead, with love and peace.   
Send forth your Consoler Spirit upon those children of yours who bear the name of your Son, Our Lord Jesus Christ.   These, our dear brothers and sisters, men, women and children who carry the seal of Christ upon their souls are victims of evil.    Console the families who mourn the loss of their loved ones, strengthen the faith of those who must endure such cruelty, and grant the crown of righteousness to those who heroically offer their lives as a sacrifice for the truth.     In this time of war and violence, dear Lord we beg you to grant us peace and tranquility.    Through the intercession of Our Lady of Victory, Mary most holy, may we soon be freed from this affliction so that your sons and daughters may continue to spread the message of love, truth and peace.   Amen.
Our Lady of the Rosary, pray for us
Our Lady Help of Christians, pray for us
St. John the Baptist, pray for us
St. James the Apostle, pray for us
St. Bernard of Clairvaux, pray for us
St. Francis of Assisi, pray for us
St. Peter Mavimenus, pray for us
St. John Damascene
Martyrs of Cordoba (murdered by Islamic Jihadists ca. 851 A.D.) 
St. Habenitus, St. Jeremiah, St. Peter, St Sabinian, St. Walabonsus, St. Wistremundus, St. Aurelius, St. Felix, St. George, St. Liliosa, and St. Natalia, pray for us
Almighty and Everlasting God, in whose hand are the power and the government of every realm: look down upon and help the Christian people that the heathen nations who trust in the fierceness of their own might may be crushed by the power of thine arm. Through our Lord Jesus Christ, thy Son, who liveth and reigneth with Thee in the unity of the Holy Ghost, God, world without end. Amen
O God, our refuge and our strength, look down in mercy on thy people who cry to thee; and by the intercession of the glorious and immaculate Virgin Mary, Mother of God, of St Joseph her spouse, of thy blessed apostles Peter and Paul, and of all the saints, in mercy and goodness hear our prayers for the conversion of sinners, and for the liberty and exaltation of our holy Mother the Church. Through the same Christ our Lord. Amen.
Petition for Christians Fleeing Persecution
For all our brothers and sisters fleeing persecution and war in the Middle East, that they may find safe haven and protection, and that they may rebuild their lives in dignity, we pray to the Lord.
Petition for Their Persecutors
For those who persecute Christians and other religious minorities, that the light of God's truth and mercy may penetrate their hearts, and that they may come to recognize the common humanity of all peoples and cease committing acts of hatred, we pray to the Lord.
July 15 2019
Statement from lead bishops for the Catholic Church and Church of England on the final report by the independent review into the Foreign and Commonwealth Office support for persecuted Christians
We are encouraged that the Final Report by the Independent Review into FCO support for persecuted Christians has grounded its analysis and recommendations in a human rights framework and in a way that will benefit all those that face the risk or reality of restriction, hostility, violence or death, either on an individual or communal basis, because of the beliefs they hold or as a result of their religious identities.
We are also reassured that the Final Report reflects several recommendations from our own submission including: mandatory training for diplomats, tailored reports from embassies, dedicated funding for promoting freedom of religion or belief, and better engagement with faith communities.
Such practical steps should now be a priority for the UK government, rather than creating new definitions of persecution, which risks both oversimplifying the complex local challenges that vary between different countries and also diverting efforts from further developing the framework of international human rights protection. There is nothing to be gained and much to be lost by encouraging a competition for 'victim status.'
Petitions for Persecuted Christians
For those suffering because of their Christian faith, that the Holy Spirit may fortify them with the courage to remain strong in faith, as well as with the charity to forgive their persecutors, we pray to the Lord.
For your faithful who suffer for your name's sake, that you would grant them a spirit of patience and charity, that they may be found true and faithful witnesses to the promises you have made, we pray to the Lord.
For those who suffer persecution for their faithful service to you, that they may rejoice to be united to the sacrifice of Christ your Son and may know that their names are written in heaven among the company of the elect, we pray to the Lord.
For those who follow your Son in bearing their cross, that they may, in every trial, glory in the name of Christian, we pray to the Lord.
For Christians in Iraq and Syria, that they may be granted courage, hope, and perseverance as they bear heroic witness to their faith in this time of persecution, we pray to the Lord.
Petition for Those Assisting Refugees
For those who provide assistance to refugees fleeing persecution and violence, that they may continue to see the face of Christ in the most vulnerable, we pray to the Lord.
Petition for World Leaders
For government leaders worldwide, that they may recognize the grave responsibility that comes with power, and may protect the persecuted and work for an end to violence and war, we pray to the Lord.