Salisbury Journal have reported on 14 February
St Osmund's Catholic Primary School ranks in top 1% for maths in England
By Benjamin Paessler @journal_ben Reporter
The letter from the Secretary of State for Education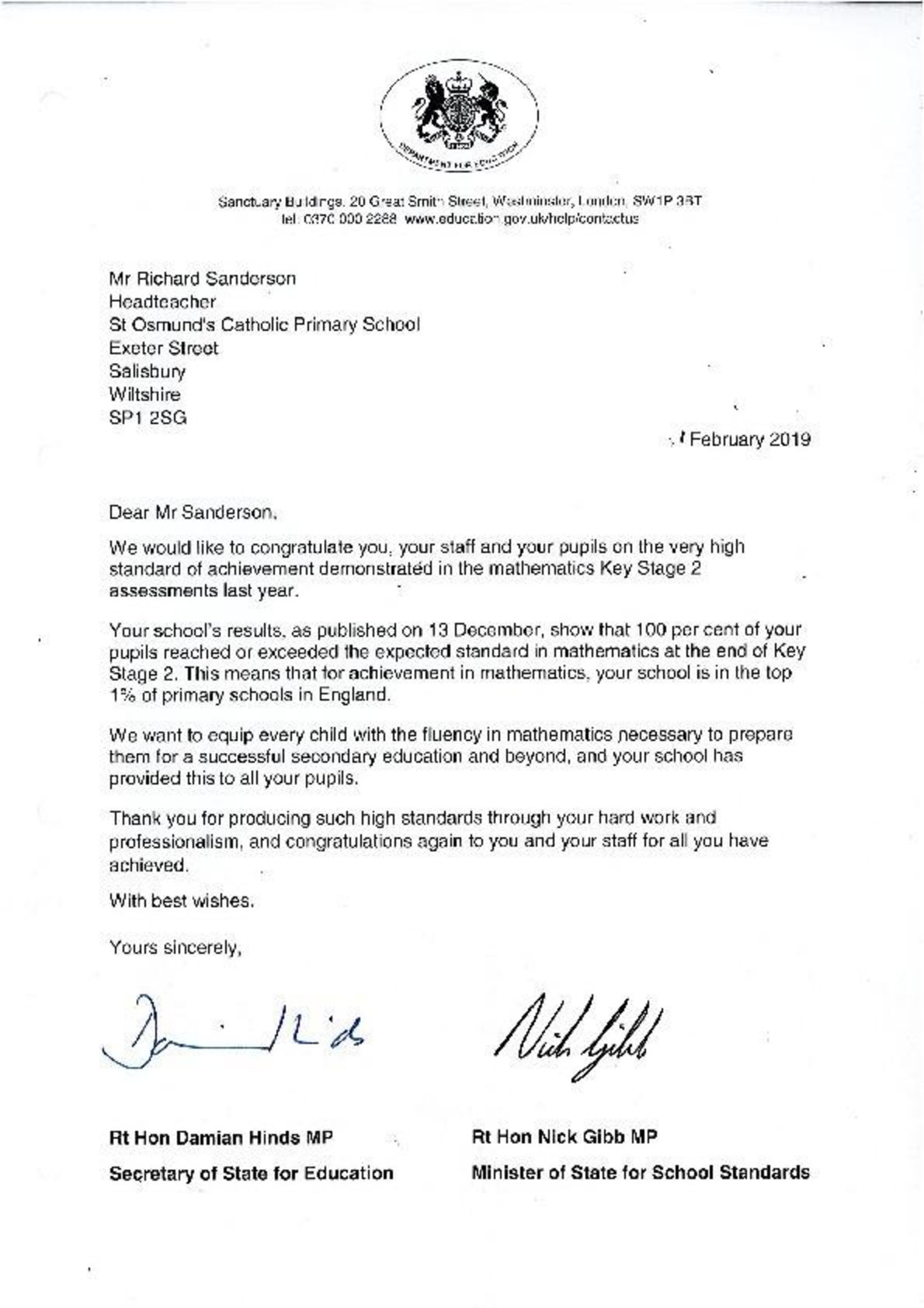 A PRIMARY school in Salisbury has received a letter from the government congratulating them on their recent results after they ranked in the top one per cent of primary schools nationally.
In the most recent published school results, 100 per cent of Year 6 pupils at St Osmund's Catholic Primary School achieved or exceeded the expected standard in maths at the end of Key Stage 2, which places the school in the top one per cent.
This resulted in the school, in Exeter Street, receiving a letter from the Secretary of State for Education, Damien Hinds, and the Minister of State for School Standards, Nick Gibb, congratulating staff and pupils on "the very high standards achieved", particularly in maths.
The letter adds: "Thank you for producing such high standards through your hard work and professionalism, and congratulations again to you and your staff for all your have achieved."
St Osmund's also ranked 13th in the South West of England and 408th nationally out of around 21,000 primary schools for standards of reading, writing and maths, according to the Sunday Times school tables.
Richard Sanderson, head teacher at St Osmund's Catholic Primary School, said: It's not the first letter we've received, we got one in 2017 as well, but the school has been on a three year rising trend, continuing to exceed standards.
"It is a tremendous achievement, and shows the commitment of the school, the hard work of the children, and the whole package of all the staff.
"We've worked hard on our ethos and our vision 'Together we can'.
"This means that we believe that every child, no matter what their background is, can reach the same levels, and that hard work has paid off."