Pain & suffering have come into your life, but remember pain, sorrow, suffering are but the kiss of Jesus - a sign that you have come so close to Him that He can kiss you.
- Mother Teresa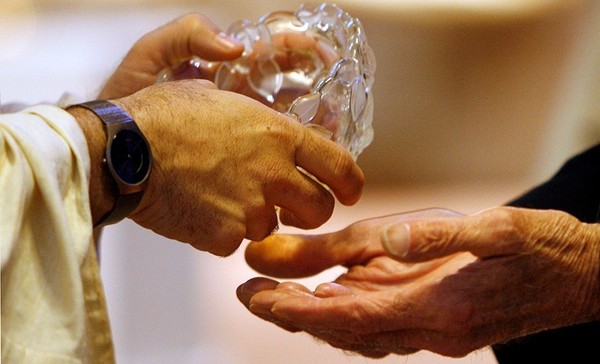 Formerly known as "Last Rites" or "Extreme Unction", the Anointing of the Sick is one of the three repeatable Sacraments in the Catholic Church. The proper time for receiving this holy anointing has arrived when the believer begins to be in danger of death because of illness or old age. Each time a Christian falls seriously ill, they may receive the Anointing of the Sick, and after they have received it, if the illness worsens.
The belief that the Anointing of the Sick should be received only in the moments before death, is a misconception. The Sacrament is often received:
Before surgery, or a serious medical precedure.
During a long-term or terminal illness.
Experiencing health issues related to old age.
The Anointing of the Sick is a prayer of healing, not only for our physical healing, but also for spiritual health, and for the strength, peace, and courage to bear the burden of illness.
As Catholics, we are asked to see our sufferings as a way of being united with the sufferings of Christ.
The Anointing of the Sick also imparts the forgiveness of sins, and therefore can only be administered by a priest or bishop.
If you or a family member feel that you require this Sacrament please contact us 
PATIENTS IN HOSPITAL
It is most important that on admission to hospital a patient (or his/her carers) inform the admission staff that they are Catholic and wish to be visited by the Catholic Chaplain. The hospital will not ask for this information, it is up to the patient to make it known and to make sure that a note is made.
ANNUAL HEALING MASS
Each year in June we organise a special celebration of Mass for those who are elderly, infirm or due to limited mobility struggle to get to church regularly.  It is held in St Elizabeth Hall for ease of access and following the Mass which includes the Sacrament of Anointing, we serve lunch to everyone who attends.   We arrange transportation to and from this Mass for those who need it.  This year's Healing Mass is at 11am on 6 July and everyone is welcome to attend.  If you, or your loved one, needs transportation to and/or from the Mass, please contact the parish office.