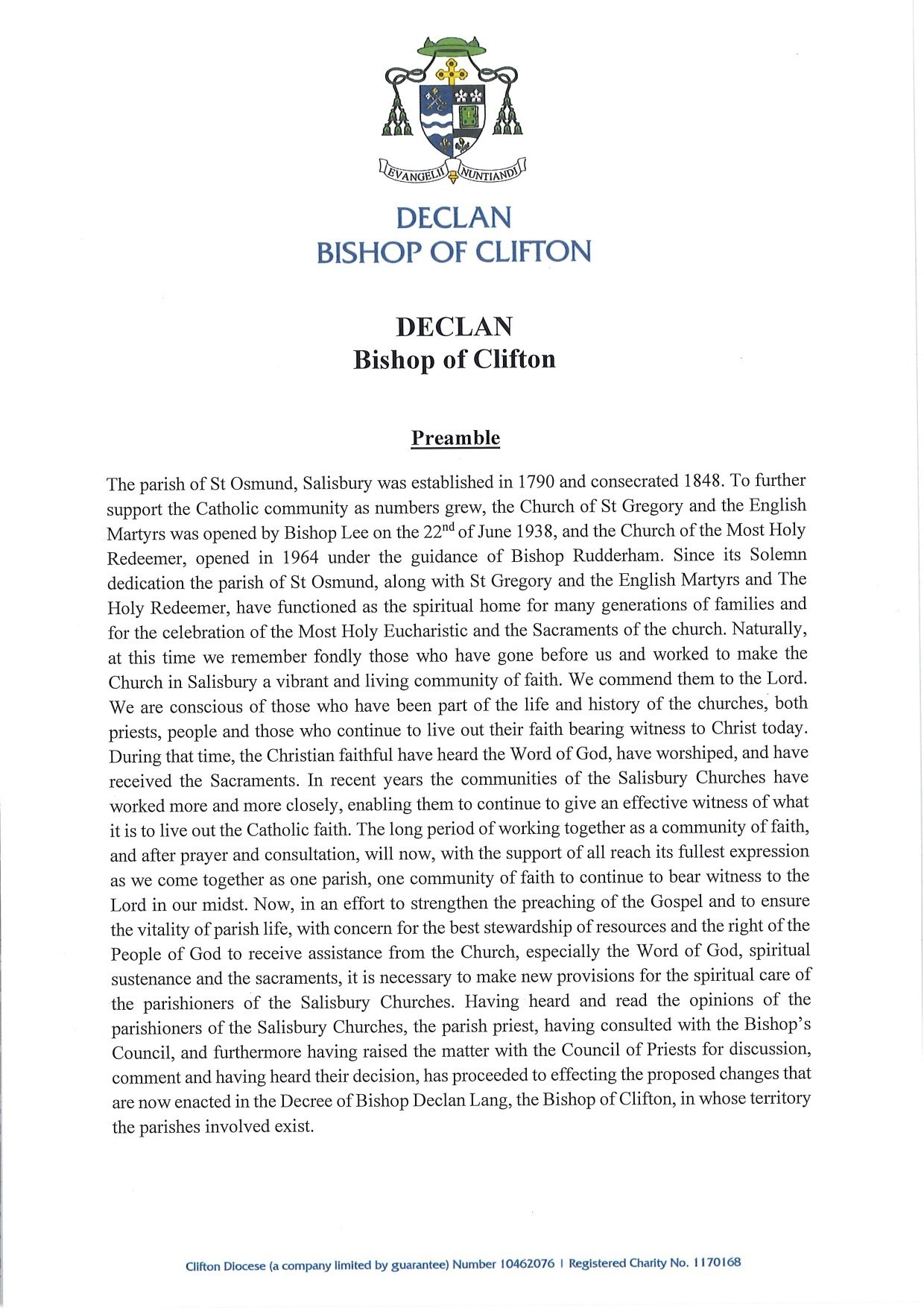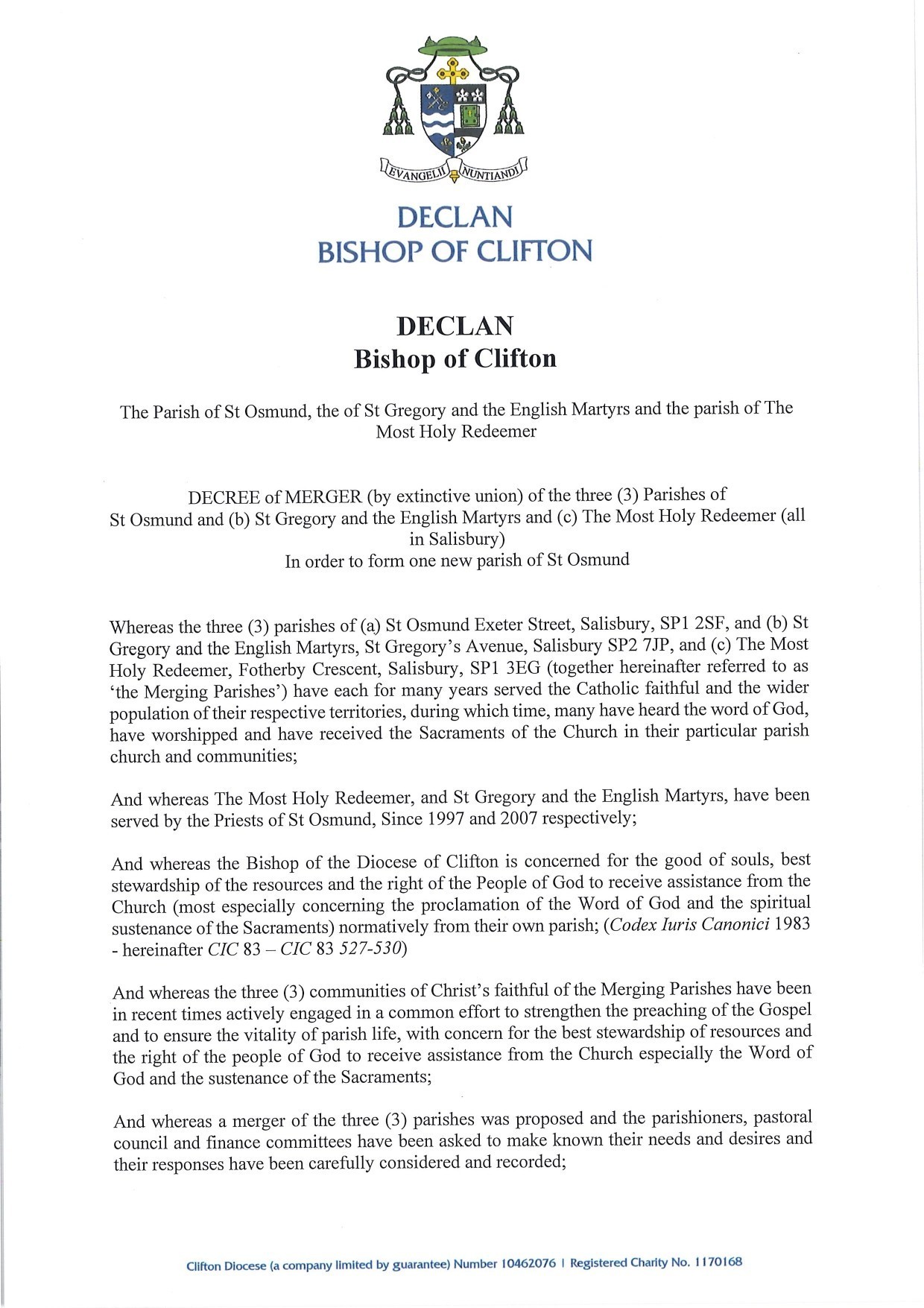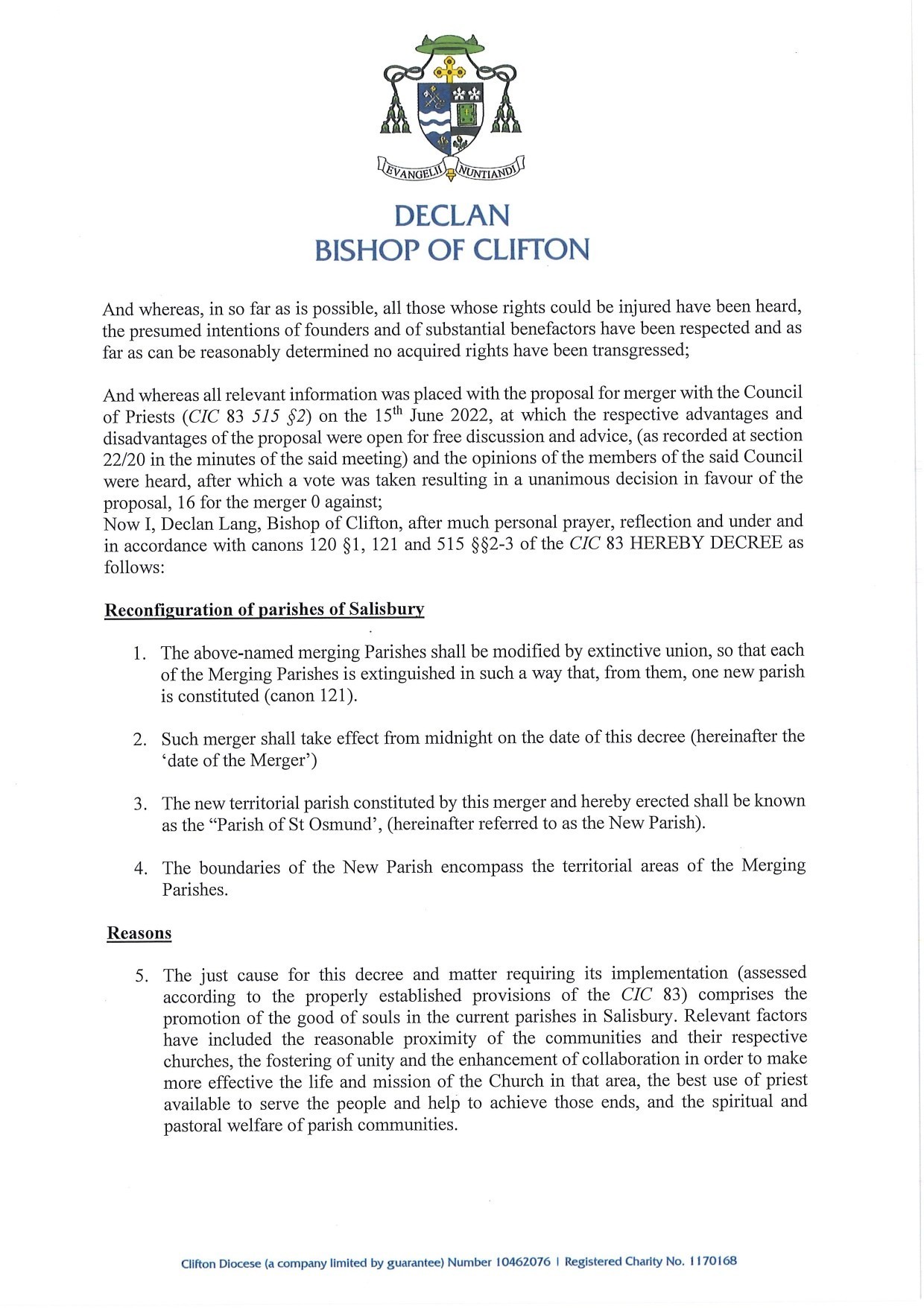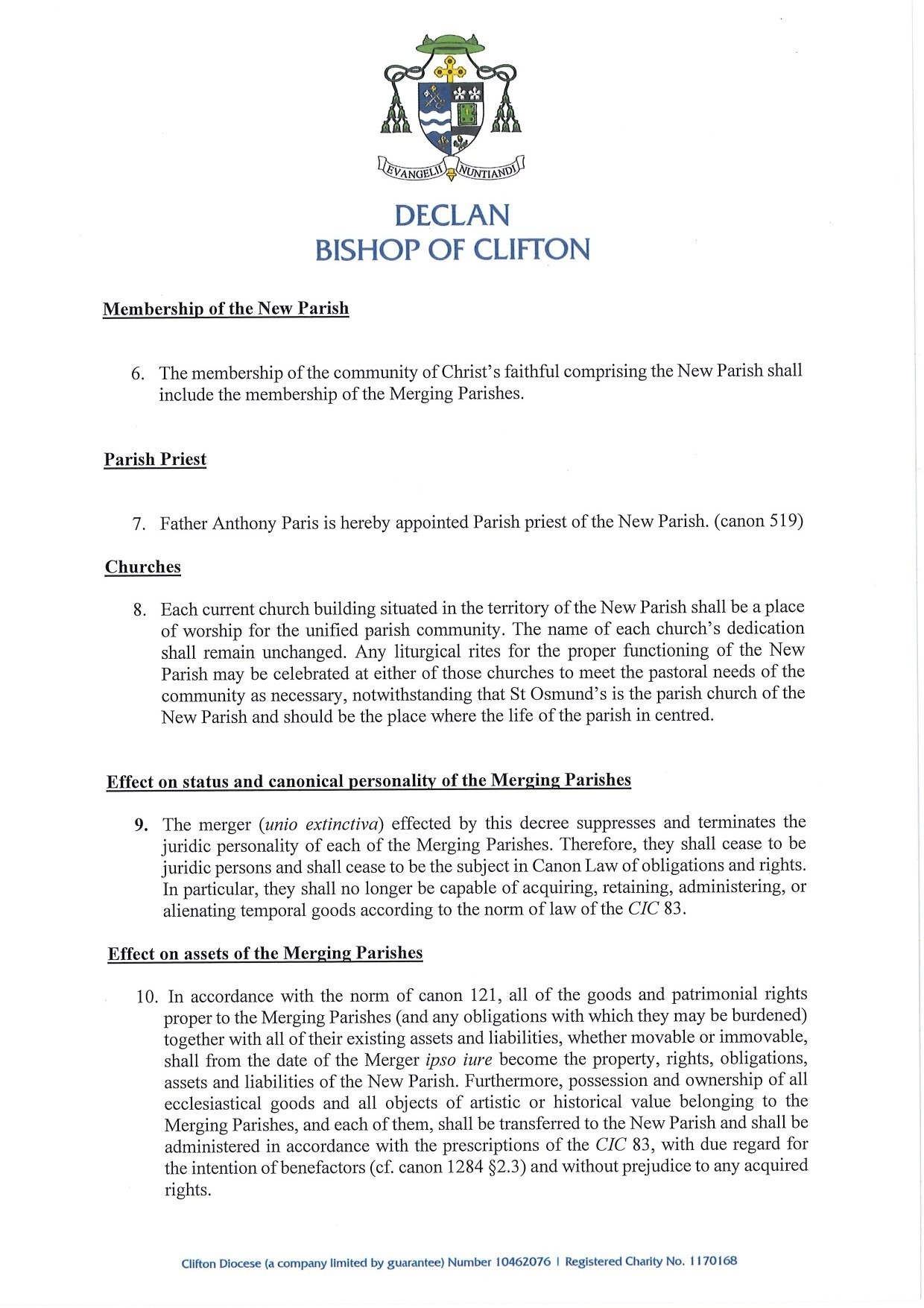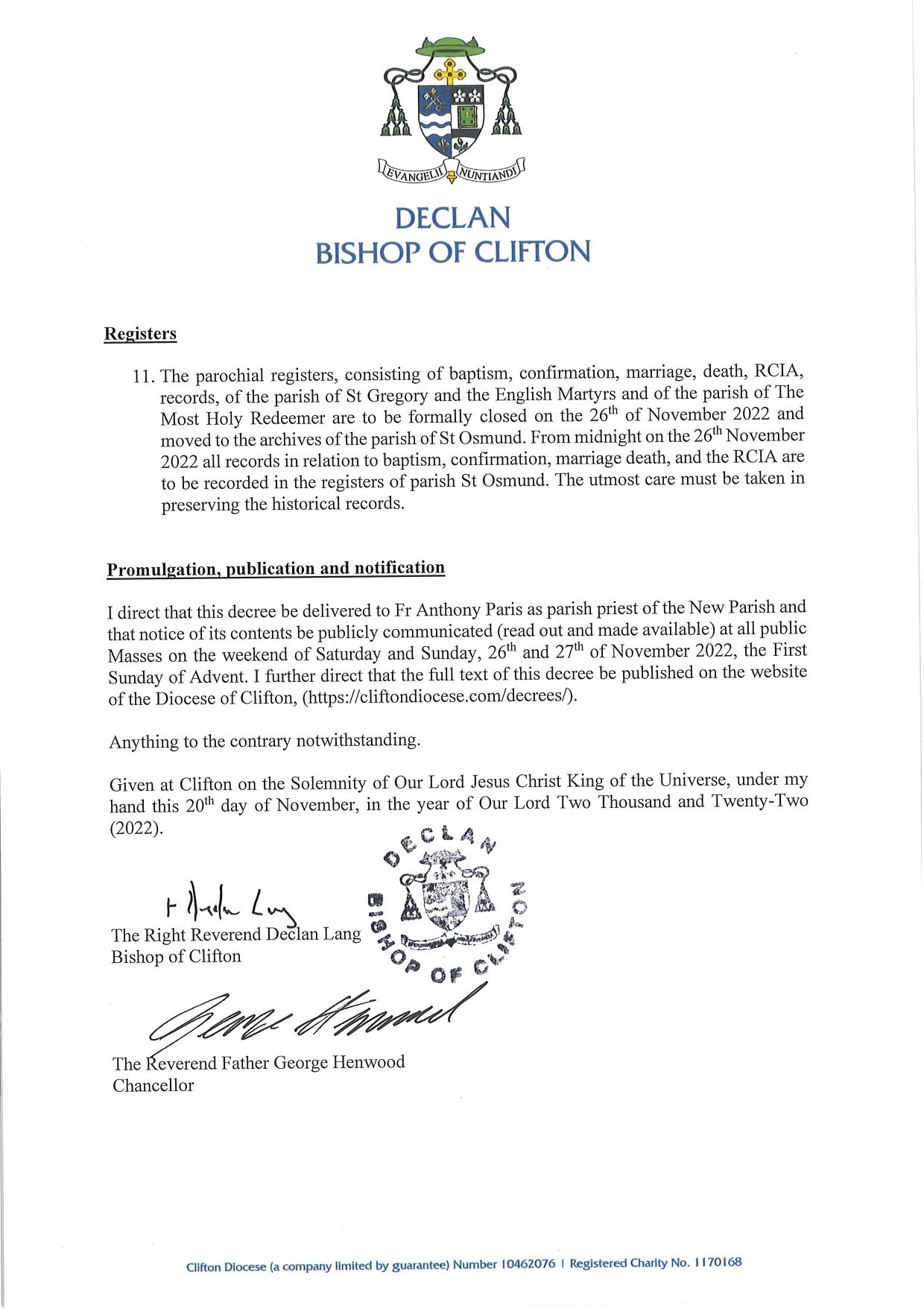 email sent by Father Anthony on 13 October 2022
Parish Merger Update
Greetings.
I hope you had a lovely summer.
Now that the preliminary work is over and the Bishop along with the Council of Priests have agreed our proposed Merger, I can inform you that we will formally Merge our three Parishes on Saturday the 26th November at 1200hrs at a Mass where the Decree formalising our Merger will be read out. The Mass has to be celebrated in St Osmund's as this will be the Named Parish Church.
Naturally, everyone is invited to attend the Mass. Seating is tight, as you know, and there will be an overspill area created in St Osmund's Parish Hall where the Liturgy can be followed on television if need be.
It is an historic event in the life of our three parishes and, as you have made clear to me, is the correct way forward. I do hope you can be part of the celebration. There will be a reception in Elizabeth Hall afterwards and I hope to see you there too.
A great deal of work has gone into making the merger possible and I would like to thank all those who have contributed so much of their time, expertise and good will. Without you it would not have happened.
Love and prayers,   Anthony
email sent by Father Anthony Paris on 9 June 2022 to all registered parishioners of Salisbury Catholic Churches
Greetings,
I hope you are well and in the very best of spirits.
I thought I'd give you a quick update on where we are with the Merger. A formal document accompanies (see below) this email, but in short:
The overwhelming response was that we should go ahead and merge the parishes.
We have collated all the evidence and sent it to the Bishop.
He will now present it to the Diocesan Council of Priests.
If approved, a date for the merger will be agreed with the Bishop and publicly announced.
The Bishop will then write to each parish involved and if possible either he or a Vicar General will visit.
The Bishop will then issue a Decree of Merger as required by the particular circumstances.
Ideally, the Decree will be read out at a celebration Mass at which the Bishop presides.
Members of the merging parishes should attend and relevant guests should be invited.
I'll keep you updated on progress.
On another note, 38 of our children made their first Communion recently and this week 18 young men and women will begin preparation for Confirmation. Please pray for them. The  future of the church will begin to rest on their shoulders and they will need all our support and encouragement.  
You will be pleased to know that Fr Jan from Poland will be with us in the Summer and we look forward to welcoming him back to Salisbury after such a long absence.
I hope you have a wonderful summer and i look forward to seeing you soon.
God bless,
Anthony
Fr Anthony Paris
Salisbury Catholic Churches
95 Exeter Street, Salisbury SP1 2SF