Mary, Star of the Sea, light of every ocean,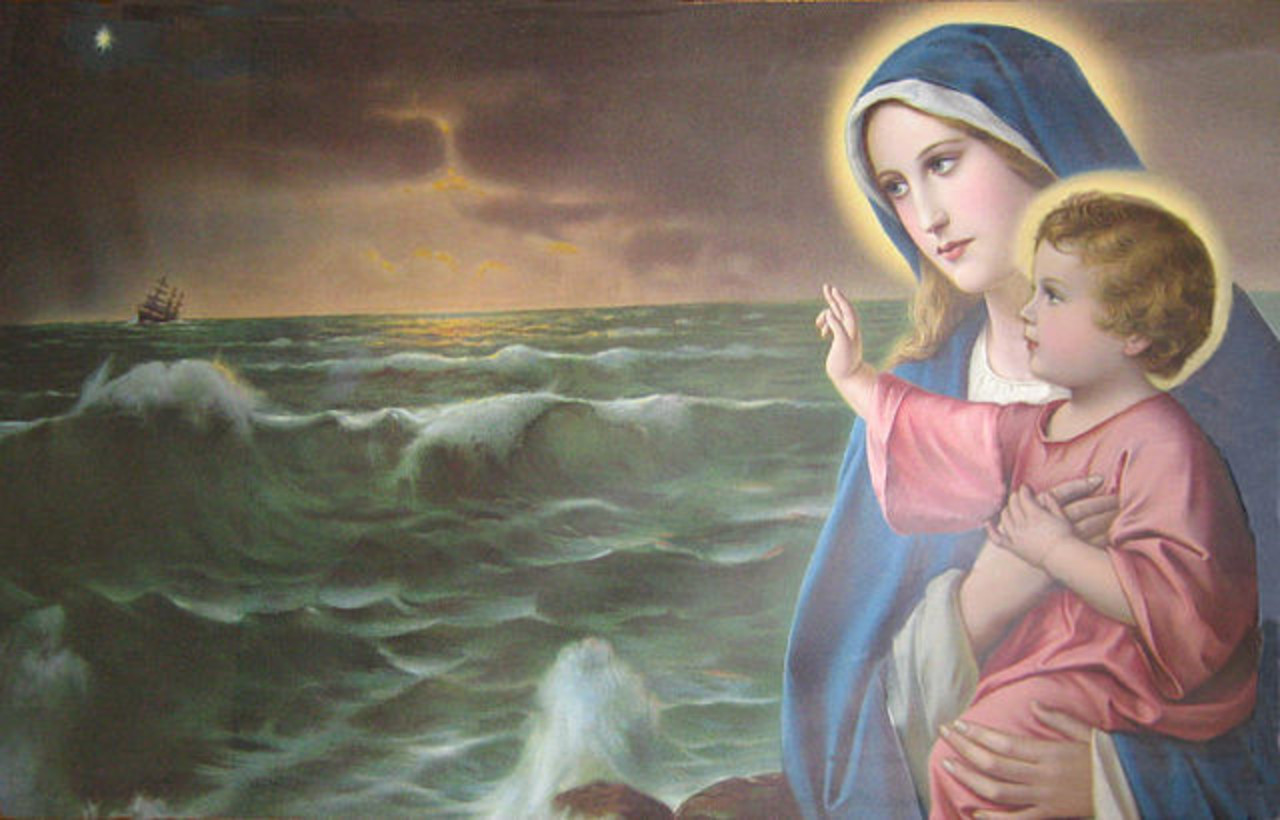 guide seafarers across all dark and stormy seas
that they may reach the haven of peace and light
prepared in Him who calmed the sea.
As we set forth upon the oceans of the world
and cross the deserts of our time, show us, O Mary,
the fruit of your womb, for without your Son we are lost. 
Pray that we will never fail on life's journey,
that in heart and mind, work and deed,
in days of turmoil and in days of calm,
we will always look to Christ and say,
"Who is this that even wind and sea obey him?"
Our Lady of Peace, pray for us!
Bright Star of the Sea, guide us! 
Our Lady, Star of the Sea, pray for seafarers, pray for us. 
Apostleship of the Sea is the Catholic Church's maritime agency that provides spiritual and welfare support to seafarers arriving in Great Britain and ports around the world.
Its extensive network of port chaplains and ship visitors offer pastoral and practical assistance to seafarers who work far from home, separated from their families, and in sometimes harsh working conditions.
Nearly 95% of what we consume in Britain arrives by ship crewed by seafarers and we are dependent upon them to bring us what we need.
Due to advances in technology, modern ships no longer spend weeks in port but these days unload and load their cargoes within days or hours.
Seafarers, many of whom come from Catholic countries such as the Philippines, Poland and India, spend up to nine months at a time at sea, away from their families.
AoS port chaplains and ship visitors offer seafarers practical assistance such as providing phone cards and internet access so they can communicate with their loved ones back home, and spiritual and emotional support including arranging for Mass and prayer services on board ships and being a friend to them.
"I was surprised to learn about the speed with which ships turn around and the limited opportunities crew members have to get off the ships and to do the things you can't do on ships, such as shop, go to church, get medical attention if they need it and contact their families at home.
"This is where the Apostleship of the Sea chaplains are so important, because they make these things happen. Otherwise seafarers might end up spending the few hours or days they spend in port in the same environment.
"So we should be more aware about those who serve us in this way and of the way Apostleship of the Sea supports them."  ~ Cardinal Vincent Nichols during a visit to Tilbury Port in June 2015.