The Chapel of All Saints, Wardour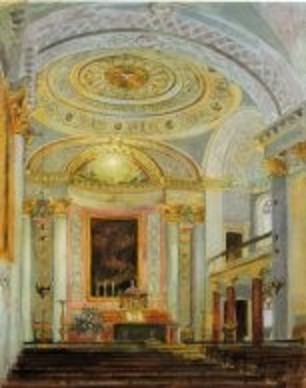 In 1770 the Lord Arundell, following the sale of the family house at Panton Street in London and of Ashcombe Estate in Wiltshire, started to build New Wardour Castle to replace the old castle which had suffered such severe damage in the Civil Wars that the family had not been able to live in it, since.  The Chapel was incorporated into the Mansion of which it forms the West wing and, therefore, from the outside, there is no indication of its existence.  The reason for this is that, at this time, over 50 years before the Catholic Emancipation Act, Catholics were still subject to penal laws which forbade the construction of a Catholic church as a separate building.  It was the first new Chapel built since the Reformation, open for public worship, that met these restrictions.  Wardour Chapel is beautifully decorated and was opened by Bishop Walmesley, the Vicar Apostolic of the Western District, on November 1st, 1776, with ecclesiastical ceremonial not seen by Catholics in England since the Reformation.
The Chapel is semi-circular at both ends and measures 95 feet long, 40 feet wide and 40 feet high; it can seat a congregation of over 300.