Saints John Fisher and Thomas More (22 June)
The lives of St Thomas More and St John Fisher are very closely linked and therefore it is quite appropriate that the Church celebrate their feasts together. They are both renowned Englishmen, martyred within two weeks of each other for the same cause of defending religious liberty, the sanctity of marriage and Papal authority against State usurpation. They were both associates of King Henry VIII before his apostasy, and it was at by his authority that they both suffered martyrdom. For more and a reflection by Bishop Robert Barron please click on the image in the 'Top News' box or click here
The Nativity of St John the Baptist (24 June)
Celebrating the birth of St John the Baptist is a feast that is relevant to all of us today. Just like St John, we would do well to "leap" with joy in announcing Jesus to all those we encounter in our world. We can do this in everything we do – not just by words, but by actions. Asking for the intercession of St John on this Feast of his birth, we can draw the strength necessary to proclaim our Lord to others. For more on this Feast and a video of the story of St John, please click on the image in the 'Top News' box or click here.
The Most Sacred Heart of Jesus - 24 June
Devotion to the wounded heart of Jesus has its origins in the eleventh century, when pious Christians meditated on the Five Wounds of Christ. There grew up among the faithful prayers to the Sacred Heart - devotions which helped Christians to focus on the passion and death of Christ, and thus to grow in love for our Saviour who had suffered and died for us. For more and a short video on this devotion, click on the image in the 'Top News' box or click here.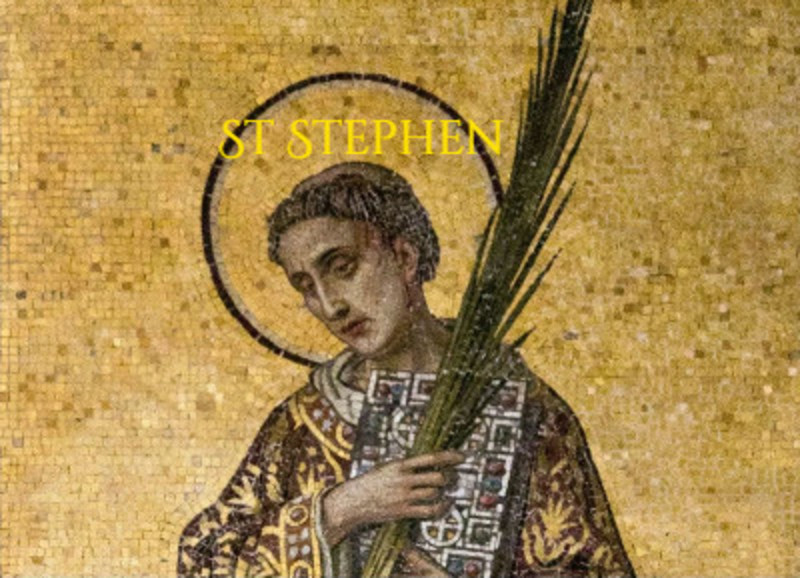 DECEMBER 26 – SAINT STEPHEN
Just after Christmas, the Catholic Church remembers its first martyr, and one of its first deacons, Saint Stephen. Roman Catholics celebrate his feast Dec. 26, while Eastern Catholics honor him one day later.
In the Acts of the Apostles, St. Luke praises St. Stephen as "a man full of faith and the Holy Spirit," who "did great wonders and signs among the people" during the earliest days of the Church.
Luke's history of the period also includes the moving scene of Stephen's death – witnessed by St. Paul before his conversion – at the hands of those who refused to accept Jesus as the Jewish Messiah.
Stephen himself was a Jew who most likely came to believe in Jesus during the Lord's ministry on earth. He may have been among the 70 disciples whom Christ sent out as missionaries, who preached the coming of God's kingdom while traveling with almost no possessions.
This spirit of detachment from material things continued in the early Church, in which St. Luke says believers "had all things in common" and "would sell their possessions and goods and distribute the proceeds to all, as any had need."
But such radical charity ran up against the cultural conflict between Jews and Gentiles, when a group of Greek widows felt neglected in their needs as compared to those of a Jewish background.
Stephen's reputation for holiness led the Apostles to choose him, along with six other men, to assist them in an official and unique way as this dispute arose. Through the sacramental power given to them by Christ, the Apostles ordained the seven men as deacons, and set them to work helping the widows.
As a deacon, Stephen also preached about Christ as the fulfillment of the Old Testament law and prophets. Unable to refute his message, some members of local synagogues brought him before their religious authorities, charging him with seeking to destroy their traditions.
Stephen responded with a discourse recorded in the seventh chapter of the Acts of the Apostles. He described Israel's resistance to God's grace in the past, and accused the present religious authorities of "opposing the Holy Spirit" and rejecting the Messiah.
Before he was put to death, Stephen had a vision of Christ in glory. "Look," he told the court, "I see the heavens opened and the Son of Man standing at the right hand of God!"
The council, however, dragged the deacon away and stoned him to death.
"While they were stoning Stephen, he prayed, 'Lord Jesus, receive my spirit,'" records St. Luke in Acts 7. "Then he knelt down and cried out in a loud voice, 'Lord, do not hold this sin against them.' When he had said this, he died."
The first Christian martyrdom was overseen by a Pharisee named Saul – later Paul, and still later St. Paul – whose own experience of Christ would transform him into a believer, and later a martyr himself.
https://salisburycatholics.org/blog/holy-innocents
https://salisburycatholics.org/blog/saint-thomas-becket
https://salisburycatholics.org/blog/saint-john-apostle-evangelist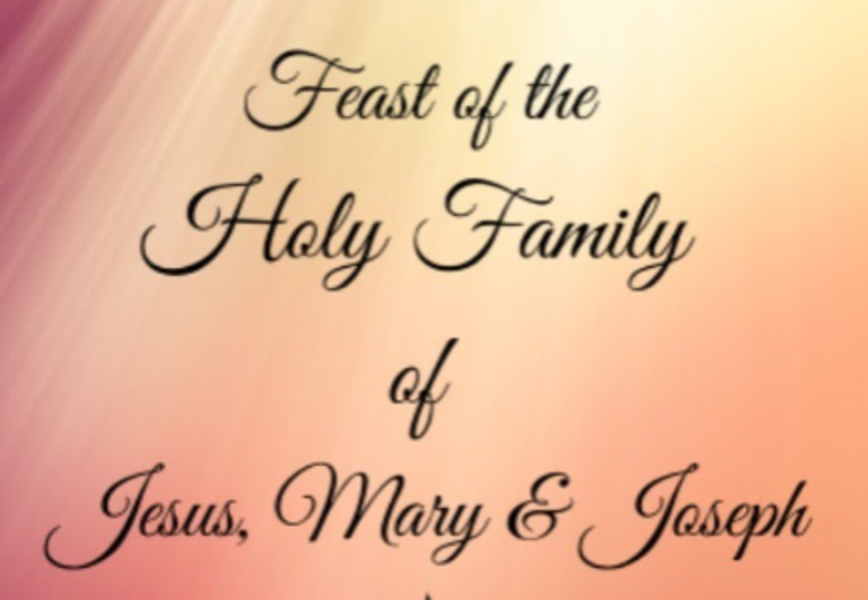 The Feast of the Holy Family of Jesus, Mary and Joseph is normally celebrated on the Sunday after Christmas. This feast developed at the beginning of the 19th century in Canada and then spread to the entire Church in 1920. At first, it was celebrated on the Sunday after Epiphany. It is a Feast that seeks to portray the Holy Family of Nazareth as the "true model of life" (cf. Opening Prayer) from which our families can draw inspiration and know where to find help and comfort.
Palm Crosses
Palm Crosses are used in churches of all denominations for Palm Sunday services.
The Palm crosses are made in eight villages in the Masasi area of southern Tanzania,these being Mpeta, Namikunda, Mlundelunde, Mumbaka, Machombei, Chivirikiti, Makanyama and Marika.
African Palm crosses are made from Dwarf Palms Hyphaena Coriacea which grow wild and are not cultivated.
The film shows villagers cutting the palms in an area near Mbangara where they grow wild, they are then dried and cut into strips before being transported back to the villages, by bicycle or on foot. They are then woven into Palm Crosses and taken to a central collection point which at present is in Mpeta.
As they are handmade size tends to vary from 15 to 25cm in length
The Palm crosses are then taken by road to the nearest port either Mtawra or Dar es Salaam, where they are loaded into containers for shipment to the UK and USA.
Buying African palm crosses:
 You will be giving extra work to people whose only other source of income is the sale of their cashew nuts. Any money they earn from palm crosses is used for the usual household necessities – clothes for the parents and their children, salt, soap and any money required to get to the nearest hospital for medical treatment.
You will encourage people in their daily lives.
Exploring a Vocation to the Priesthood w/ Cardinal Vincent
In this video, the #Cardinal answers some questions on his experience sensing God's call with a listening and prayerful heart, often asked by men seeking to discern whether they are called to the #priesthood.
Mass Times
Weekend Mass Times
Saturday: 5:30 p.m. (Vigil)
Sunday: 8 a.m., 9:45 a.m., 11:30 a.m., 1:15 p.m. (Spanish), 6:30 p.m. (Spanish)
3rd Sunday "Filipino": 3 p.m.
4th Sunday "Indonesian": 3 p.m.
Daily Mass Times
Monday-Friday: 8 a.m.
Wednesday: 6 p.m. (Spanish)
Confession Times
Wednesday: 5-6 p.m.
Saturday: 4-5 p.m.
Eucharistic Adoration
Thurday: 8:30-9:30 p.m.