10,000 Reasons (Bless The Lord) by Matt Redman
10,000 Reasons to Build a Wall Written by David Wells
We wish to try to ensure that parents of Catholic children who are due to start school, apply for a place at the right time. Every year some parents unfortunately miss the closing date or forget to provide their child's baptism certificate and so may miss out on a place at a Catholic school. Please would you therefore kindly help parents, by including the following notice in all your newsletters and on your parish website from 12 September 2021 to 9 January 2022:   Time to Start School? If you have a child born between 1 September 2017 and 31 August 2018, then now is the time to apply for a place at a Catholic primary school in the Diocese. You must complete an application form (either online or on paper) that is available from the school admissions team of the [INSERT NAME OF YOUR LOCAL COUNCIL(S)]  Council, for admission during the 2022-23 school year. If your child has been baptised, you must also provide a copy of the baptism certificate to your preferred school. Please ensure you apply by the closing date of 15 January 2022.   NB Please remember to delete the text in red font above, and to insert the name(s) of the Council(s) that covers your parish(es). Select from Bath & North East Somerset, Bristol, North Somerset, Somerset, South Gloucestershire, Swindon and Wiltshire, as appropriate.       Children from families where English is not their first language, are particularly at risk of missing out on a place. To help these families, please also include the notice in any languages that are particularly represented in your parish(es). The above text can be easily translated into any language by using 'Google Translate'.
EdUKaid's Charity Race Night – *NEW DATE*
Tickets now on sale for EdUKaid's fun filled Charity Race Night at St Elizabeth Hall from 7pm on Saturday 13th November 21.
All money raised will directly support the most disadvantaged children in rural Tanzania giving them the education they so desperately need.
Ticket are £7.50 each - price includes Ploughman's Supper and there will be a great selection of raffle prizes as well as a cash and contactless bar on the night.
Tickets can be booked at https://www.edukaid.com/Event/charity-race-night or by emailing [email protected] or by calling Teresa on 0759251078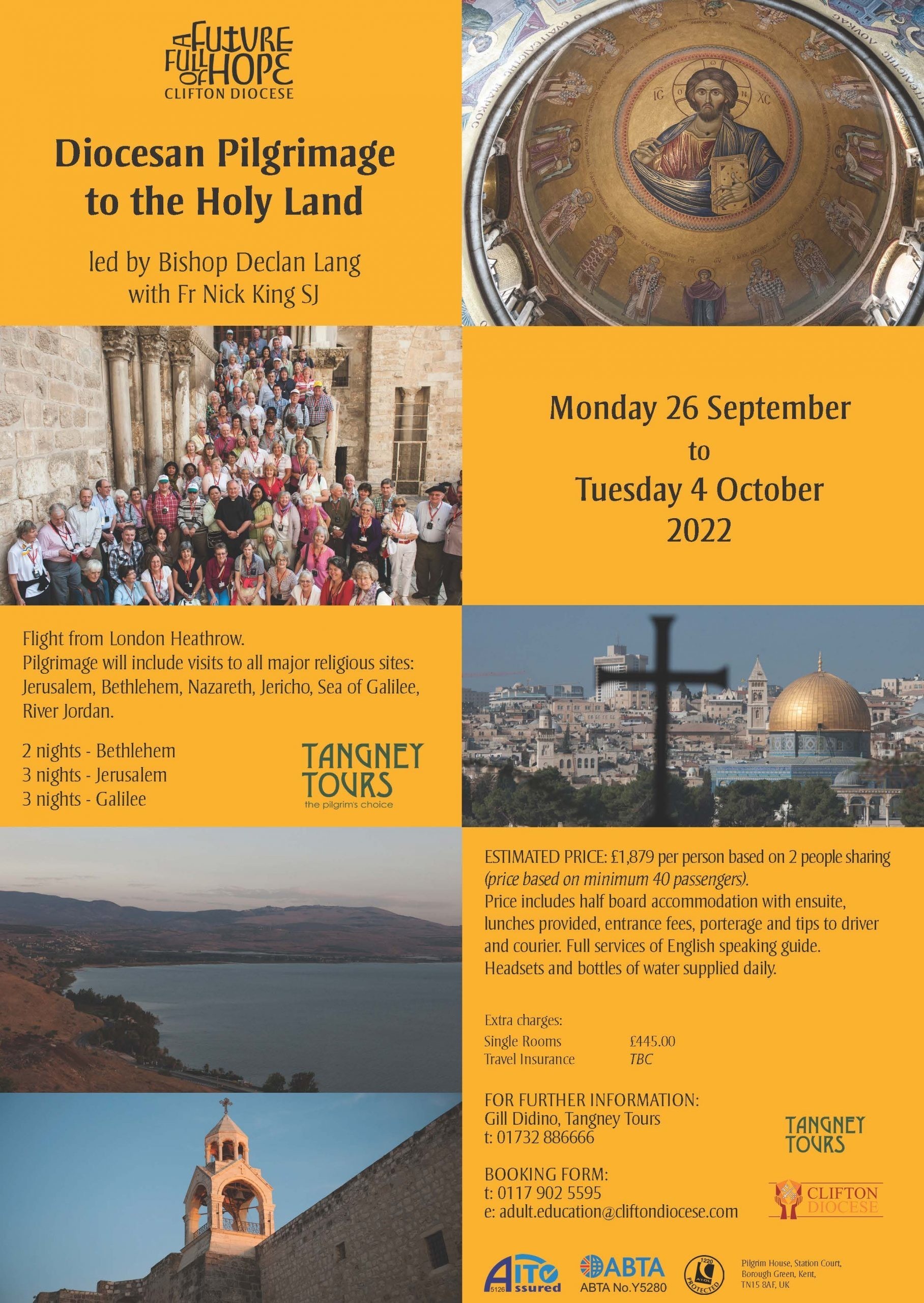 Bishop Declan is set to lead a pilgrimage to the Holy Land in 2022 (Monday 26 September to Tuesday 4 October 2022) staying three nights in Galilee, two nights in Bethlehem, and three nights in Jerusalem. Initial estimated costings indicate a figure of £1,959 per person (based on two people sharing).
The cost of the Pilgrimage is currently an estimate. It is possible that the cost of flights will rise and consequently increase the cost of the total package. As soon as we know the final price we will let you know.
Since this is a popular pilgrimage we are currently just looking for an expression of interest so that we have an idea of what kind of numbers we can cater for.  If you are interested in next year's pilgrimage, then please contact Sarah Adams in the Adult Education & Evangelisation department, at [email protected].
We've always had a superb time in the Holy Land and it'll be good to look forward to another trip in the autumn of 2022. It would be great to have you with us!
Pre-COP26 Appeal: Action needed to heal our wounded humanity
ENVIRONMENT
Pre-COP26 Appeal: Action needed to heal our wounded humanity
Monday, October 4th, 2021 @ 5:45 pm
CBCEW » Environment » » Pre-COP26 Appeal: Action needed to ...
"We have inherited a garden: we must not leave a desert to our children." Those are the words contained in a joint appeal signed by Pope Francis along with scientists and religious leaders on Monday morning in the Vatican during a meeting entitled "Faith and Science: Towards Cop26."
The appeal spells out, in no uncertain terms, that unprecedented challenges "threaten our beautiful common home."
Multiple crises
It notes that "multiple crises facing humanity are ultimately linked to a crisis of values, ethical and spiritual, adding that as caretakers of the natural environment, there is a moral obligation "to cooperate in the healing of the planet."
"We need a framework of hope and courage," the document underlines, "but we also need to change the narrative of development. Climate change is a grave threat."
Net-zero emissions
The document calls for the world to achieve net-zero carbon emissions as soon as possible, reduce its own emissions and finance emission reductions by poorer nations.
It also appeals to governments "to raise their ambition and their international cooperation to favour a transition to clean energy; adopt sustainable land use practices; transform food systems to become environmentally-friendly and respectful of local cultures; end hunger; and to promote sustainable lifestyles and patterns of consumption and production."
The appeal emphasizes that efforts need to be deepened in order to bring about "a change of heart among members of our traditions in the way we relate to the Earth and to other people."
Heal our wounded humanity
"Future generations will never forgive us if we miss the opportunity to protect our common home," the document says.
"Scientists have warned us that there might be only one decade left to restore the planet. We plead with the international community, gathered at COP26, to take speedy, responsible and shared action to safeguard, restore and heal our wounded humanity and the home entrusted to our stewardship. We appeal to everyone to join us on this common journey."
Christine Allen is the Director of CAFOD, the Catholic development agency for England and Wales. Giving her reaction to the appeal, she said, "It's really quite unprecedented isn't it for so many faith leaders to come together in this way. I remember when Pope Francis issued Laudato si' in 2015; it had a very very significant impact on world leaders and on the subsequent COP negotiations there, and I'm hoping, as I hope Pope Francis is too, that this current appeal will have a very similar impact because it's really desperately needs."
In his own address on Monday morning during the meeting, the Pope called for a common commitment shaped by interdependence, love and mutual respect in efforts towards caring for our common home.
The CAFOD director noted that these are messages Pope Francis has been talking about since the publication of Laudato si'.
Everything is connected
"His sense that everything is connected is absolutely fundamental to his concept of integral ecology; this sense that we are part of something, that we are connected to something. We can't just act as if our actions have no implications on either other people or indeed the planet as a whole."
She went on to say that "Pope Francis is calling us to see this issue completely differently; not just about economics, not just about politics but about how we as human beings engage both with one another and with our plant: How do we hear the cry of the earth as well as the cry of the poor?"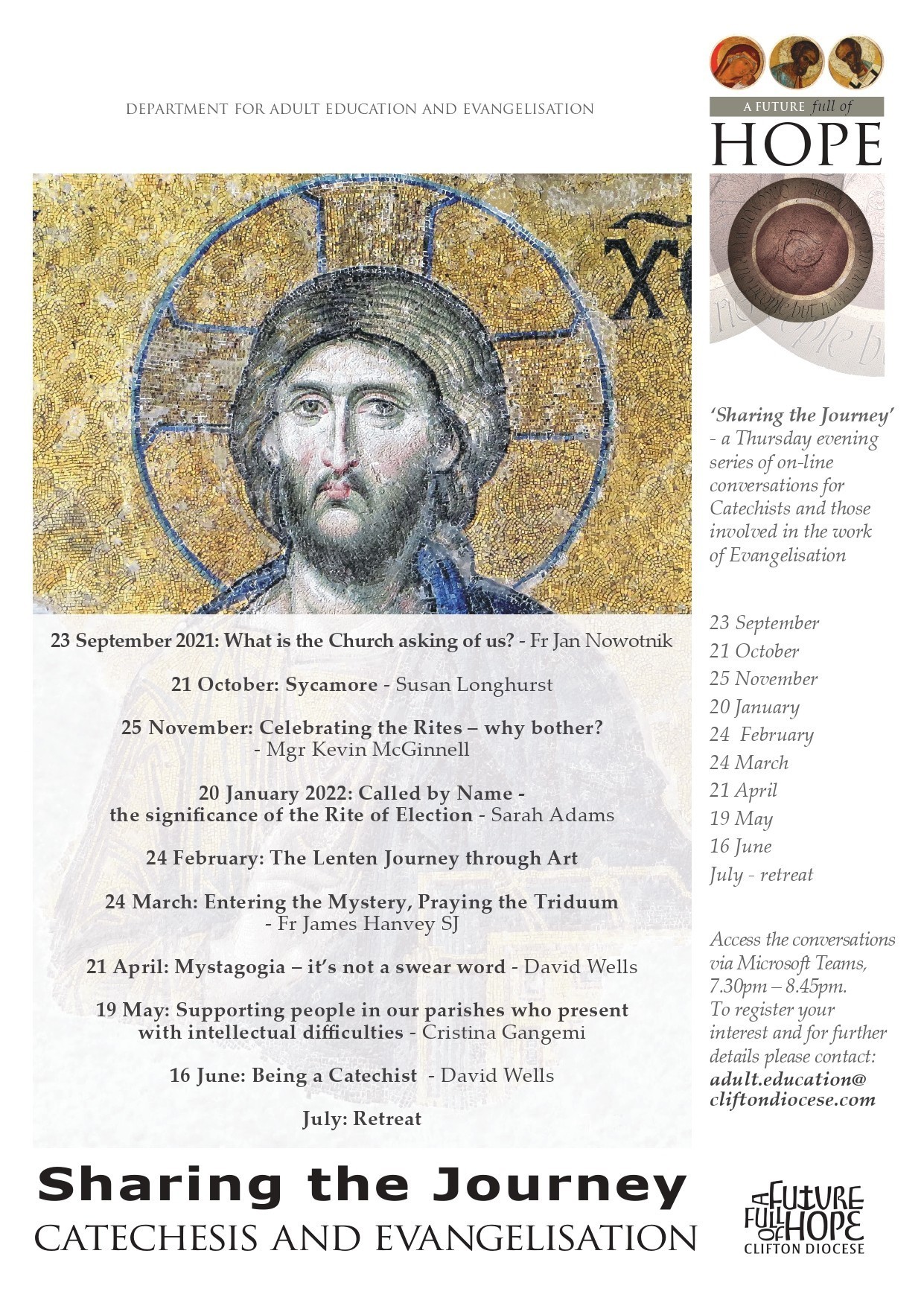 'Sharing the Journey' – there is an opportunity for catechists to be renewed and refreshed by taking part in a series of on-line conversations with a variety of speakers from around the country. Each speaker will offer their own insights into different aspects of catechesis and evangelisation, followed by time to discuss, comment and share ideas. 
Our remaining speakers & dates are:
21 October: Sycamore – Susan Longhurst
25 November: Celebrating the Rites – why bother? – Mgr Kevin McGinnell
20 January 2022: Called by Name – the significance of the Rite of Election – Sarah Adams
24 February: The Lenten Journey through Art – Lynne Hanley
24 March: Entering the Mystery, Praying the Triduum – Fr James Hanvey SJ
21 April: Mystagogia – it's not a swear word – David Wells
19 May: Supporting people in our parishes who present with intellectual difficulties – Cristina Gangemi
16 June: Being a Catechist – David Wells
July: Retreat
All are welcome to join, including anyone who is interested in this area of ministry but not yet involved. To our next session on Thursday 21 October, we welcome Susan Longhurst. The conversations will take place on Microsoft Teams, 7.30pm – 8.45pm. To register your interest please contact: [email protected]. I would advise downloading the Microsoft Teams app beforehand and have a go with it before the meeting if you are new to Teams.  A Microsoft Teams invitation will be sent out a few days before each talk.
Prayers for Justice & Peace – this is an ecumenical prayer group that meets for half an hour in the Trinity Chapel in Salisbury Cathedral at midday on the third Wednesday of each month.  Each week the prayers are led by individuals from the different Christian denominations. Everyone is welcome to attend and there is no need to book.
Saint Luke's Story
Luke wrote one of the major portions of the New Testament, a two-volume work comprising the third Gospel and Acts of the Apostles. In the two books he shows the parallel between the life of Christ and that of the Church. He is the only Gentile Christian among the Gospel writers. Tradition holds him to be a native of Antioch, and Paul calls him "our beloved physician." His Gospel was probably written between 70 and 85 A.D.
Luke appears in Acts during Paul's second journey, remains at Philippi for several years until Paul returns from his third journey, accompanies Paul to Jerusalem, and remains near him when he is imprisoned in Caesarea. During these two years, Luke had time to seek information and interview persons who had known Jesus. He accompanied Paul on the dangerous journey to Rome where he was a faithful companion.
Luke's unique character may best be seen by the emphases of his Gospel, which has been given a number of subtitles:
1) The Gospel of Mercy
2) The Gospel of Universal Salvation
3) The Gospel of the Poor
4) The Gospel of Absolute Renunciation
5) The Gospel of Prayer and the Holy Spirit
6) The Gospel of Joy
RETURNING TO A SUNDAY OBLIGATION Since Lockdown in the Lent 2020, our Bishops released us from the Sunday Obligation. As we begin to move to more freedom, our Bishops call us to focus on the First Sunday of Advent (28th November) as a point where we pick up that 'obligation' once again. How can we view this? The Sunday obligation to attend Mass for Catholics shouldn't be seen as an "imposition," but an invitation to grow deeper in love with God. When a person really understands what's going on at Mass and who it is they have an opportunity to encounter and receive, then they literally build their weekend around Mass. St John Paul II explained this in his apostolic exhortation Dies Domini. 'Even if in the earliest times it was not judged necessary to be prescriptive, the Church has not ceased to confirm this obligation of conscience, which rises from the inner need felt so strongly by the Christians of the first centuries. It was only later, faced with the halfheartedness or negligence of some, that the Church had to make explicit the duty to attend Sunday Mass. (47) So even today, the Catholic who is able to attend Mass must make every reasonable effort to be there. But above all, the obligation should not be seen as an "imposition," but an "invitation" to enter into the love of God, as St John Paul II reiterated. Sunday is a day which is at the very heart of the Christian life … "I would strongly urge everyone to rediscover Sunday: Do not be afraid to give your time to Christ! Yes, let us open our time to Christ, that he may cast light upon it and give it direction. He is the One who knows the secret of time and the secret of eternity, and he gives us "his day" as an ever-new gift of his love … Time given to Christ is never time lost, but is rather time gained, so that our relationships and indeed our whole life may become more profoundly human.' The Sunday obligation is a great gift to humanity, and Catholics are called to fulfil it with a joyful heart
Lourdes Virtual Pilgrimage